What to Know about Wedding Florals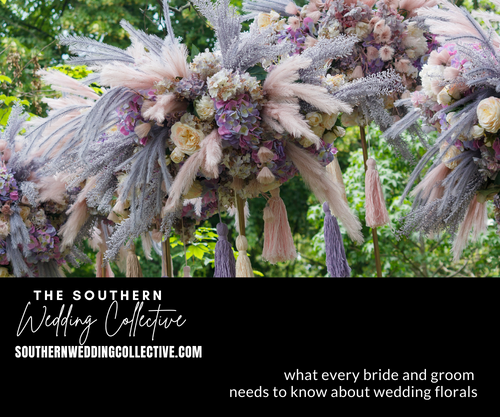 When it comes to your wedding florals you may know precisely what you want or you may be utterly clueless. Flowers and floral installations usually make up  8-10% of your wedding budget. It also depends on your vision, the size of your wedding party, and the venue.  No matter your level of knowledge with wedding flowers, we wanted to pass along some information and options regarding flowers on your big day. 
DIY vs. Hiring a Florist
The first thing you should consider is if you should hire a florist or go the DIY route. The biggest question to consider is: do you want to add another item to your list of things you will be responsible for on your wedding day or do you want to pay someone else to take care of it?  If you have a passion and eye for flowers and floral arrangements then go for it. If this feels intimidating and you don't know what flowers are in season or where to purchase them then, by all means, hire a professional.  Remember, your flowers will be in every photograph. They will be in your hands, in your bridesmaids' hands, on your groom's lapel, and on his groomsmen. Flowers are also part of the ceremony, alter, and reception decor.  It's a lot to logistically consider when it comes to arranging, setting up, tearing down, and maintenance.  The bottom line, hiring a professional florist will save you time, have an expert on your team, and help you with setup and delivery. 
2022 and 2023 Floral Trends
With more weddings moving outside we are seeing lots of outdoor floral installations. In the past, hiring a florist used to mean ordering bouquets and a few centerpieces. Now florists are stage designers and interior decorators using florals instead of furniture. We love the trend of a gorgeous floral backdrop, oversized greenery on a wedding arch, hanging florals from tented ceilings, and even incorporating nature around your venue as your florals. 
When it comes to bouquets everything from lots of colors, muted shades, and ombré hues are trending. We are seeing brides and grooms using more greenery as texture or mixing in nontraditional elements like feathers, citrus, or dried flowers.  Bouquets seem to also be getting bigger and fuller with a new fresh, modern spin on the cascading bouquets. 
Don't forget the little details like floral crowns. Crowns are a nice alternative to carrying a bouquet, especially for boho chic brides and the trending woodland fairy-themed weddings. Baby's breath isn't just for '80s prom corsages. It's actually super hot right now and has been spotted braided and adorned on the hair of models on several runways this season. There is no right or wrong way to utilize florals in your wedding. Just lean into your vision and theme and your venue owner, florist or wedding planner can help make it happen. 
Finally, consider alternative bouquets. If florals drop to the bottom of your priority list then there are several options to select from. Renting your florals is a huge business. Several companies offer pre-selected arrangements that you can order and have sent right to your door. If you would rather go the faux path then consider silk flowers or even wooden florals. Be sure to inspect the quality, do your research, ask for samples and read reviews so they last the entire day. Another alternative to traditional wedding florals is thinking out of the box. Brides have carried feathers, dried lavender, cotton bushels, paper flowers, ferns, a single large stem and so much more. Your wedding, your flowers. 
We love watching the trends with our Southern Wedding Collective brides and grooms and we're eager to see what the remainder of the 2022 season holds when it comes to florals. If you need help or want some expert advice don't hesitate to reach out to any of our vendors! They've seen a plethora of weddings and know what's worked and what hasn't for other couples. Their experience is one of their best qualities!