How to Incorporate using a Calligrapher for your Wedding Day.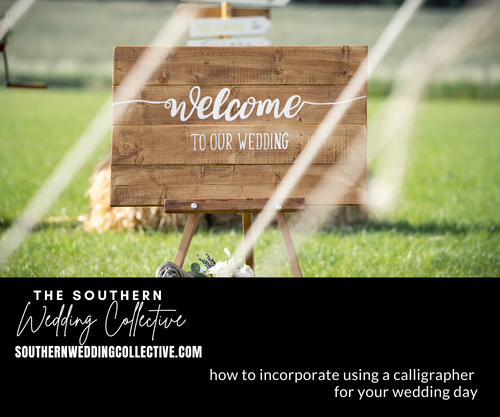 Do you love calligraphy? Are you a bride or groom who drools over the intricate swoops and swirls of the ink? Calligraphy isn't just beautiful penmanship, it's an art form. The way each letter connects with the next creates a harmony of symbols for every word. Not to mention, how there are no two styles precisely the same.
But how do you incorporate calligraphy and using a calligrapher into the details of your wedding day? 
Addressing the Envelopes
The most common reason brides and grooms call a calligrapher is for addressing the inner and outer envelopes of their invitations. Traditional etiquette will tell you that you should hand address your wedding invitations.  If you don't have the time or resources to do this yourself then passing that job onto a calligrapher can save you time as a couple but also create a stunning first impression for your guests.  Just remember to schedule your calligrapher well in advance.  Madison Weisenseel of Mad Sun Studio, recommends booking six months out from your desired date. And as a rule of thumb, you should mail your invitations six to eight weeks prior to your wedding date.  You can always order your blank envelopes early so that you aren't waiting on them until the very last minute. Just check with your stationer and calligrapher to make sure everyone is literally and figuratively on the same page!
Invitations
Hiring someone to hand write all your invitations seems like a crazy idea. However, you can hire a calligrapher to handwrite your full invitation or just specific details that you can pass along to the printer or graphic designer to print. Remember if you are asking them to write the entire invitation you may want to make sure everyone can read the details easily.  The date, time and place are very important and you would hate for guests to not be able to read the numbers or letters and miss the big event.  Moreover, having a calligrapher just write your and your significant other's names to place into the invitation is a wonderful way to incorporate calligraphy into your wedding details. 
Printables
If you decide to skip calligraphy on the actual invitations, consider using it for your other printable items.  You may want to think about table numbers or escort cards. Even if you decide to print these items you can have your calligrapher send you a pdf file and you can DIY the printing process.  It's a small cost for a grand impression.  Other items to consider would be your program, the menu, gift tags for wedding favors, stickers, and finally personalized thank you notes with your new last name written in a one-of-a-kind calligraphy font. 
Signage
Signage provides an opportunity to create beautiful show-stopping details for your wedding day.  Hiring a calligrapher to create signs for the bar facades, welcome signage, parking, dinner, and gifts will truly make your event one of a kind. It's okay to also think out of the box when it comes to signage. You don't have to use paper.  You can work with a calligrapher and get creative when it comes to what medium.  Madison works with a variety of options. Her basic options include acrylic, mirror, glass, chalkboard, wood, and even specialty materials depending on your budget. 
Creative Details
We love when brides and grooms add little creative details to their day.  And incorporating calligraphy into those creative details just ups the ante. We've all seen custom wedding logos but consider hiring a professional calligrapher to create a custom crest to then use on your invitation or even a wax seal for your envelopes. It would be a beautiful and cohesive way to tie in all your printed materials.  You can also use calligraphy for your koozies, coasters, and even those adorable clothes hangers that your wedding dress will hang on for an unforgettable photo opportunity. 
Calligraphy doesn't have to be stuffy or only for the elite.  There are a plethora of styles to choose from and creative ways to include calligraphy on your wedding day.  Even if you are on a budget, consider calling a calligrapher to see the cost of a few items that you could use over and over on printed items that would truly knock the socks off your guests on the big day.
Below are some of Madison Weisenseel's work that we love.  You can find out more about Madison on her website and follow along on her Instagram and Facebook.