Signed, Sealed and Delivered: Wedding Invitations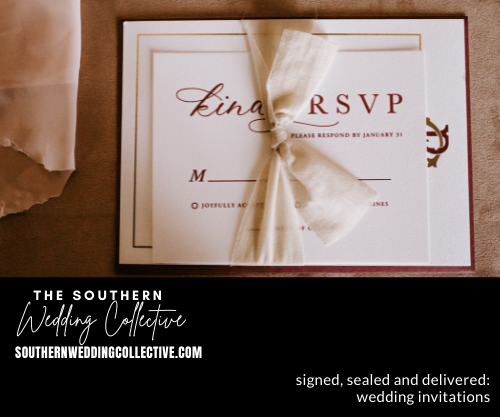 You've picked the date, the venue(s), and most importantly your significant other. Now it's time to let everyone know and invite them to the wedding.  Wedding invitations can be daunting. There are different types of paper and card stock to choose from, different printing methods, different styles, and dozens of wording choices. How will you know what to choose, how many to order, and how much it costs?  Hopefully, this guide will help you determine what to consider when it comes to your wedding invitations.
Prepping your Wedding Invitations
Prepping the Guest List
First and foremost, nail down your guest list! Having a grasp on the headcount is crucial for almost every subsequent step in wedding planning. Your venue, rental, caterer, bakery, and bartender will need a general headcount to give you ballpark pricing and that's hard to come by if you aren't even sure how many invitations you plan on sending out. This is also a great time to shoot out texts and emails to gather addresses and ensure you have everyone's names spelled correctly. You can also look into Postable as an easy, free online tool for gathering mailing addresses.  Don't forget when placing the order that you need to know how many addresses not people. For example, Sam and Sarah are a couple but live together at the same address so they only need one invitation. 
Prepping the Budget
Decide what percentage of your budget will go towards your invitations. The team at Martha Stewart suggests allowing for 3-5% of your budget. This needs to include the save the dates, invitations, any insert pieces (rsvp cards, direction cards, etc), envelopes, postage for the invite and response envelopes, and any special extras like wax seals or hand calligraphy for the addressing.  The price of your wedding invitations is greatly dependent on your printing method.  If your heart is set on engraved or letterpress invitations then your budget may go up drastically and you will need to be prepared. A great piece of advice is to make an appointment with a brick-and-mortar stationery store. You can sit down and learn about the different styles of paper and printing methods while actually seeing and feeling samples of what you decide to order.
Prepping to Shop
Once you have your total number of invitations and a general idea of your budget, go shopping!  Spend some time on Pinterest creating a vision board and  looking at styles you know you like, consider your venue, the time of your ceremony and the formality of the event, window shop in stationery stores if you haven't already, or go back and look at some old wedding or party invitations that you saved because they stood out to you. When you have a general idea of what you like and don't like you will feel more confident when it comes to making the selection on which invitation to order.  If you are ordering invitations from a stationer, call ahead to see if you need an appointment.
Prepping to DIY
Perhaps after you did your research you realize that ordering online from a retailer like Minted or from a stationery store isn't going to work with your budget or theme. Maybe you would rather find a digital download from a designer on Etsy, a friend, or do it yourself on Canva.  If you take this route, then you still need to make sure you have all the correct materials or resources. You need a computer, a good printer, ink, paper, and the correct size of envelopes. Don't forget you may need a quality paper cutter to trim your cards down to size. DIY takes a lot of time and sometimes trial and error. Be sure you order overage of your paper in case the printer jams or you have to print a few test rounds.
Prepping the Wording
How do you word your invitation? Frankly, the answer is you can word your invitation any way you would like. Typically the wording, theme and design of the invitation will set the tone for your guests and let them know what to expect at your soiree. However, if you are a stickler for etiquette then there are a few basic guidelines you may need to follow. Brides.com offers a great guide with suggestions and sample wording. Don't forget, the most important information-your names, the date, time and place!  Pro tip: Have someone not directly involved in the wedding to proofread your invitation. Even if you and your beloved have looked at the wording over and over it's always helpful to have another set of eyes glance over the proof before hitting print! 
Prepping for Mailing
Time to send your invites! Typically invitations should go out 6 to 8 weeks before the wedding. This gives your guests adequate time to arrange travel, childcare and adjust schedules as needed. When thinking about your own timeline be sure to include time to address, stuff, seal and stamp your invitations as well.
If you are considering having your envelopes hand addressed by a calligrapher make sure you secure him or her well in advance. Take calligrapher, Madison Weisenseel's advice of Mad Sun Studio, "To be safe I would say that you would need to book your calligrapher about 6 months out from your desired service date. I operate a little differently since I also offer signage as well. Since I am a one-woman show, my time is limited and I can only accept so many orders. It's always better to be safe and to secure services by paying a deposit so that the calligrapher you choose is not already booked if you wait too long."
If you aren't hiring a calligrapher, then make it a fun date night or invite your wedding party over to help and serve champagne and hors d'oeuvre.  Southern Living has a great slideshow with tips for how to address your wedding invitations if you want some pointers!  Remember to weigh a complete invitation suite at the post office before purchasing your stamps. Include all inserts and envelopes and have a postal worker weigh your invitation on the scale to ensure you apply adequate postage to each invitation!
If you are still struggling when it comes to your wedding invitations, don't hesitate to chat with any of your Southern Wedding Collective vendors. They are here to help you. Even if it isn't their speciality, weddings are their business and they will be more than happy to connect you with someone that may be of assistance.