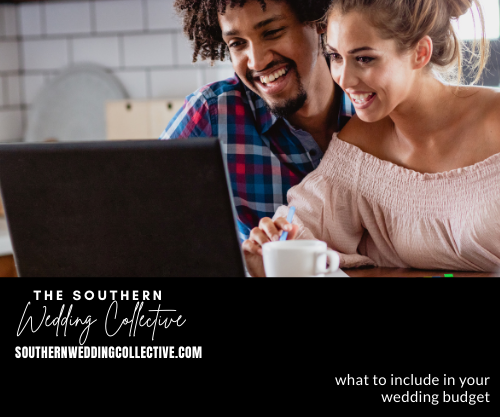 The Wedding Boom! The past two years have thrown everyone into a frenzy when it comes to health concerns, work from home life, social distancing, and even wedding planning. But based on the feedback we are hearing from so many of our other southern wedding vendors, weddings are back and in full swing. Love and weddings are like our faithful postal workers, come rain, sleet, or snow, people are still falling in love, getting engaged, and planning weddings for their happily ever afters.  
We know that Christmas Eve, Christmas Day, and New Year's have proven to be some of the most popular times that people get engaged and because of that January and February are big planning months for brides and grooms. If you are one of the lucky couples that got engaged over the holidays, let us first congratulate you! If you are a couple that had to postpone their wedding because of the pandemic and are about to officially start the planning process this year, then we also want to extend our well wishes to you too!
Wedding planning can be so much fun and not a tad bit overwhelming. One of the first things to do when starting the planning process is to set your budget!  That feels like a hefty undertaking but we wanted to include our list of things to consider when planning your wedding budget. 
What to Include In Your Wedding Budget
Venue.

This is the big one! This will be where you are getting married. This may be the location for the ceremony and reception or just the reception. A large portion of your budget is going to go to the venue considering it will be where you officially tie the knot! If you need help with your venue search check out Southern Wedding Collective's

featured venues

.

Rentals

. Rentals can be anything from linens, dinnerware, tables, chairs, tents, lighting, etc… Depending on your venue you may not have to worry about those items as they may be included in the property but don't forget to make a line item for them on your spreadsheet.  Across the Bar is one of our featured bartending and rental service providers and you can find more information about what they offer

here.

Officiant fees.

This one is tricky because you may have a family friend or pastor provide this service for you but don't forget to include a sizable tip or ask if they have a fee! You may even need to offer to pay for the certification if you are asking someone to perform the ceremony who doesn't already have a license.

Marriage license.

If you want to be considered legally married then you should make sure you have a marriage license! The cost varies from state to state and county to county but it can range anywhere from $15 to over $100. Make sure you check your local guidelines and know the length of time required before saying "I do."

Catering.

This one is the doozy. The catering can make or break a budget depending on your headcount. Obviously, with smaller weddings, there are not as many mouths to feed. Along with the venue, this line item is a big piece of the budget. Make sure you touch base with your venue to know if they offer catering and if not inquire about their preferred vendor list so you can make arrangements.

Alcohol.

People like to have a good time at weddings and it's hard to get a general idea of how much you need to spend on this category. Our recommendation is to always talk to a professional such as

Across the Bar

and consider the differences between a full bar, cash bar, signature cocktails, mocktails, and wine and beer. Don't forget that you probably want to have a bartender too!

Wedding Cake and Desserts

. When it comes to the wedding cake, groom's cake, and desserts you have so many choices available allowing you and your partner to express your creativity and personalities. From donuts to candy bars, to cupcakes, to cheesecakes, to pies and even milk and cookies, the options are endless. Get creative, talk to a professional baker, like our own,

The Sweet Bar,

and most of all "let them eat cake!"

Flowers and Decor.

Flowers can be as minimal or as extravagant as you would like. With so many weddings moving outdoors in 2020 and 2021, florals had their moment. Large ceremony arches, bold bouquets, boho floral crowns over a traditional veil, and even floral ceiling installations instead of centerpieces. If your venue is bare-bones you may also need to talk to your florist about what other decorations to include and you should make sure you have a plan for that in your budget as well.  Check out

Kristina Eaton

, not only is she a wedding planner but she also offers floral design and decor services.

Attire.

This category can be big or small depending on your vision for your wedding. Here are a few questions to ask before determining the amount you are willing to spend. Are considering having a wardrobe change mid-wedding? Do you want to include dresses or clothing for parties and showers?  Will you be renting or purchasing your tuxedos/suits? Will you offer to pay for a portion or any of the wedding party's attire? What shoes will you be wearing? Do you know if you will wear a veil or other accessories? What about alterations? Cover all your bases so you don't have any unexpected expenses.

Photography.

The Southern Wedding Collective is blessed to have so many amazing

photographers

who understand that these images are what you will keep long past the ceremony. That the memories of your family and friends watching you and your partner exchange vows will be captured on film for a lifetime. It's definitely an investment and worth making sure you accommodate accordingly within your budget.

Music.

Music covers both the ceremony and reception. Again check with your venue to see what is included in the cost when it comes to music such as sound system, microphones, house music, stage area, etc… You also want to think about your theme and if a band, DJ, or instrumental quartet will work best for your expectations.

The Platinum Band Atlanta

prides itself on curating a personalized song list just for your event and making sure that the entertainment is the last thing on your mind you are worried about the day of your wedding!

Invitations.

If you aren't a paper buff, looking at invitations prices can feel like more than you want to spend but remember if people aren't invited they won't come! Don't skip out on ordering things such as Save the Dates or Reply Cards with envelopes and postage so you can get an accurate headcount for budgeting purposes! Also make sure to include the cost of any calligraphy or addressing fees such as pens, labels, printing. Postage for your invitations should be itemized within this column. And finally, thank you cards or personalized couples stationery for all the thank you notes you'll be writing after your wedding!  If you need some tips for invitations, pop over to the blog and read our post

here

.

Miscellaneous.

Don't forget to include line items for extras: wedding bands, wedding favors, wedding party gifts, hair and makeup, transportation, rehearsal dinner costs if necessary, tips, bachelor or bachelorette party, snacks and beverages for your wedding party, covid protocol items, security guards, sparklers/bubbles/send-off items and any permits needed.