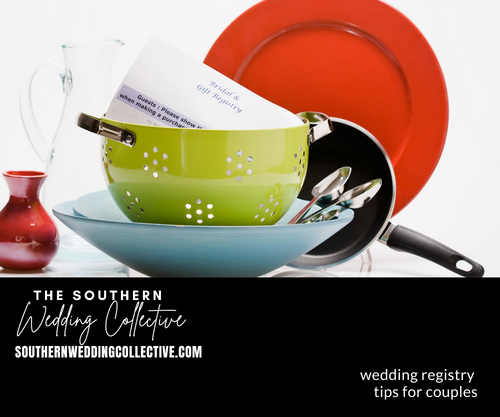 Part of the fun of getting married is registering for new stuff! Even if the two of you have been living on your own or together for a while it's nice to start your new chapter together with some new items for your home and life. But how do you go about even registering and what do you need to register for and what should you skip?  We have the lowdown in this article for your best wedding registry tips.
Inventory.

Take stock of what you already own and have.  Look around your and your fiance's home(s) and find out the items you like, what you wish you had, what you don't need, and what color schemes you like.

Schedule a Full Day.

 The amount of time it takes to register may be the most surprising thing to couples.  If you are going to register at a few stores you may want to break this into a few days.  It is pretty entertaining to go around a store with your handheld scanner and pick and choose what you want but after an hour or so you start to get hungry, tired, and overwhelmed.  So make a day date of it. Set aside plenty of time so you don't feel rushed and then grab dinner and drinks after to celebrate!

Start Early.

Even if you don't have everything you want on your list go ahead and set up your registry soon after you get engaged. Your Aunt Jane and mom's best friend are going to be thrilled you are engaged and presents may start arriving as soon as the news is out.  If you go ahead and register it will ensure that those presents that arrive at your doorstep are things you actually want and it will avoid the headache and awkwardness of having to make any returns. 

Spreading the News.

It's always awkward to tell people where to buy your presents and you certainly shouldn't put it on your actual wedding invitations.  That's an etiquette no-no. Do tell your family and wedding party so they can share that information with others.  You can absolutely put it on your wedding website. And when someone hosts any bridal or wedding shower for you will they will pass the registry information on your behalf. 

Register for Several Price Points.

Everyone wants to celebrate with you and bring a gift but not everyone has the budget to purchase a $300 pot.  So make sure you vary your price points. You'll want to register for gadgets that may be bigger ticket items but also for affordable appliances and tools that you will use every day with an affordable price tag.  This allows everyone to feel like they are gifting you something you actually wanted but also not breaking the bank or having anyone feel left out of celebrating. 

Money.

Perhaps you don't need anything and you would rather have the money.  You shouldn't ask outright for money. It can come across as gauche. But there are several ways to set up a honeymoon fund, register for gift cards, or even donate to a charity.  Check with your wedding planner or travel agent to see how to set this up don't forget to have a collection area set up at the actual ceremony.

Register Each Room. 

Make sure you step beyond the kitchen and bath and think about other areas of your home or lifestyle where you would want to register for items.  Boardgames, outdoor patio items, yard tools, grilling accessories, bath, wet bar, and entertaining, are just a few ideas for gifts that may be fun for your lifestyle.  If you are avid campers or an outdoorsy couple consider registering for things that would fit into your weekends.  Maybe football or baseball season is your thing so make sure you register for a few gifts that can help game day or tailgating be easier.  Just don't limit yourself to one area when it comes to your list.  You may not get it all but it's fun to add items that are unique.

Online Registry. 

There are several websites that will group all your registries together into one spot.  It's a great way for out-of-town guests to find your information and send you a gift with the click of a button.

 Zola

,

Joy

, and

My Registry

are just a few places that can help you consolidate your registry and usually, these are free. 

Shipping

. Make sure you put in an accurate shipping address for your gifts. Consider the timing of your lease or where you may be living during the planning process.  If you may be moving or addresses are changing before and after the ceremony use an address that will stay the same throughout the process.  Ask your parents or a sister or friend if you can have items shipped to their house. 

Thank You.

Don't forget to say thank you.  A good rule of thumb would be that as the gifts come in, give yourself a week or so after receiving to write the sender a thank you note.  It will save you the headache of trying to remember who gave what.  You will also be ahead of the game when it's the day after the honeymoon and you are surrounded by gifts collected at the wedding.  You won't feel so overwhelmed with writing thank you notes from the wedding and all your previous gifts.
Don't be afraid to ask one of the Southern Wedding Collective Vendors for help when it comes to your wedding registry. You'll be shocked by the advice these seasoned professionals have when it comes to all areas of wedding planning!