In the past two years, we've all seen an uptick in outdoor weddings. These weddings were birthed out of necessity at the height of the pandemic. However, now that the dust has settled so to speak and normalcy is returning, one trend that is sticking around is keeping the ceremony outside. But now these outdoor affairs are leaning into an overall theme beyond keeping safe in the great outdoors.
Here are a few outdoor-themed weddings you could possibly copy for your own wedding.
Garden Party Wedding Ideas
Garden party weddings evoke a sense of luxury. Usually held around brunch or mid-day these affairs focus heavily on florals. Mix fresh bouquets of seasonal blooms with greenery and romantic lighting glowing from limbs and branches to really add to the vibe. Because your theme is focused on florals let them run free on every surface, including incorporating them into your signature cocktails or desserts. You and your florist and hairstylist can discuss how to rock a floral boho crown or even braid them into your hair. Think about your dress and your maids' attire.  Embroidered flowers on a veil or even your train lend a subtle nod to the theme.  These garden party weddings can be held in private gardens, estates, and of course botanical gardens.  If you are looking for a location in Alabama, consider Aldridge Gardens. This botanical haven offers over 9 different facility locations on their property all among luscious well maintained gardens.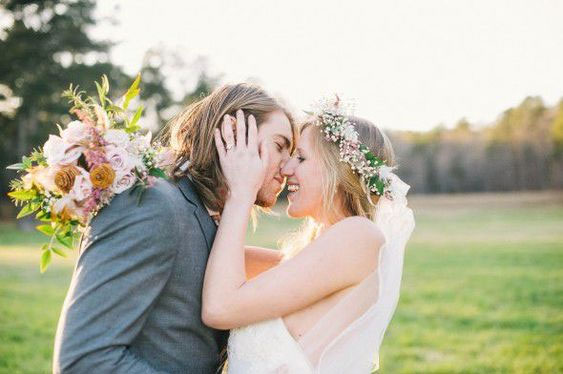 This bride's floral crown photographed at The Farm, Rome Ga is giving us major garden party wedding vibes. Photographed by Elizabeth Lanier Photography
Woodland Fairy Wedding Feels
The best part of any bride or groom's wedding day is that it is a chance to embrace the magic.  Woodland Fairy Weddings are a big trend right now.  Couples (and their guests) want to sneak away from their everyday life filled with remote work or the daily commute and escape into a magical fairy-inspired world.  Here the day-to-day problems melt away and the only thing that matters is the love that is being celebrated.  These woodland fairy weddings often take place around golden hour. When the sun is slowly setting and the fireflies are starting to light up the dusky evening. If you can't have actual fireflies or fairies then consider fairy lighting to set your venue aglow.  These twinkling light installations will create the ambiance of another world for you and your guests. Along with lighting, the decor should be light and airy. Greenery along with boho macrame as your ceremony arch seems on brand. You could even add creative seating areas with little tents or yurts and blankets and cushions all around on decorative carpets and vintage rugs.  Think enchanted forest meets secret garden. Of course, your wedding party attire would have lots of tulle, flowy gowns, braids, and baby breath. Tiny Tennessee Weddings in Mt. Juliet, Tennessee would be a great place for your magical woodland wedding. With three different locations on their property, you, your beloved, and your guests can step inside a beautiful fairytale.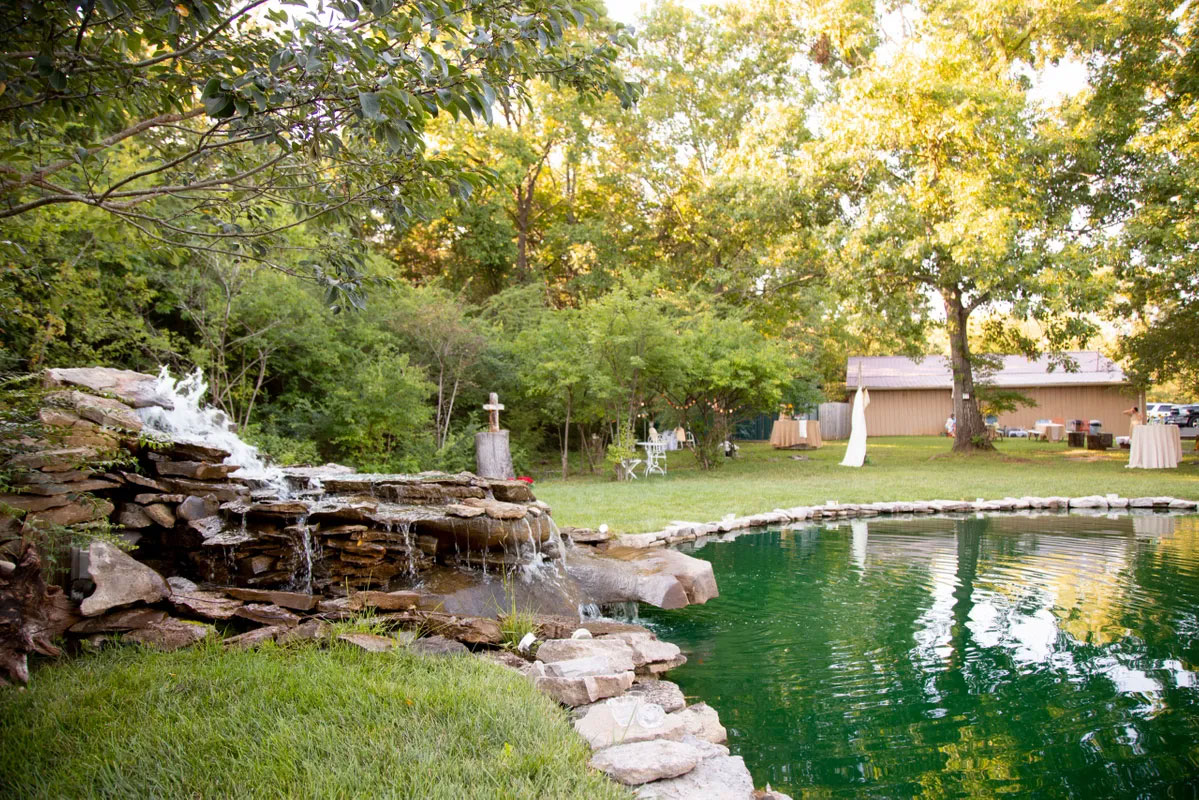 Your wedding will be straight from a page in a storybook at the Reflection Pond located on the property at Tiny Tennessee Weddings. 
Intimate Dinner Party Wedding Suggestions
If 2020 was the year of elopements and 2021 embraced microweddings then let's keep the movement going and host something similar but with a little more flare. Take the idea of a cozy restaurant dinner party and move it to the great outdoors. If you are hosting an event for 25 to 30 of your close friends and family then why not hire a calligrapher to hand address each invitation? It sets the tone straight from the start that this is an intimate affair. Every detail and moment will be personal and customized for you and your future spouse. Even though this wedding theme is described as a "dinner party" you can certainly celebrate any time of day. Think brunch with friends, casual southern lunch with family or romantic dinner party with other couples. If possible try to have everyone seated at the same table to carry the cohesive theme of togetherness. A large farm table with candles and creative place cards lining the length of the table under outdoor chandeliers create the cozy private room at your favorite restaurant feel.  Speaking of restaurants, consider ordering from your favorite chef or a local dining venue that you and your partner enjoy. Take time to put your individual stamps on every detail of the day. If you are looking for wide-open spaces that somehow feel like your own private dining room consider The Farm, Rome Ga. One of their most unique event spaces is setting up a dining area inside the Stables.