The Benefits of Planning a Smaller Wedding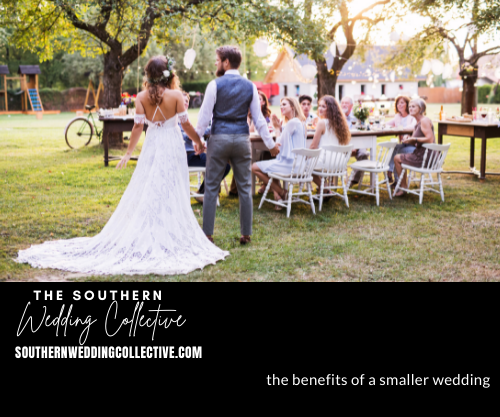 With 2021 about to wrap up and the hope of a new year and a new wedding season upon us, we wanted to reflect on one of the biggest wedding trends of the pandemic-smaller weddings. Smaller weddings were born out of need but because of all the benefits, we think they may linger into this new normal. As newly engaged couples begin envisioning their wedding day, The Southern Wedding Collective wants to assist you in your planning by offering some tips and trends our vendors have seen over the course of the past two years.  
Curating the Guest List 
Weddings are like postal workers! Come rain, sleet, or snow, weddings will still take place. As was the case in the middle of a major health crisis. When social distancing led us to less in-person events we started to learn new wedding terms such as "microwedding" or "minimony."
These ceremonies are not only still popular but are starting to become an easier way to say "I do,"  especially for brides and grooms. Robert Lopez with Two by Two Photography says, "I am seeing a trend in micro weddings where couples are realizing they can have a simple yet elegant wedding."  The smaller a gathering means the more intimate the affair. With only your closest friends and family able to attend you can be fully in the moment and soaking in the memories. Traditionally an elopement usually meant you, your significant other, and the courthouse officiant but now that same exclusivity can be shared among your close friends and family without sacrificing the party environment. 
Channeling your Creativity
A smaller wedding also means couples can focus on more creative details. You can give your guests an amazing experience that could potentially last for a full weekend. A smaller wedding allows for a little more room in the budget and you may even consider renting a venue for the whole weekend with your wedding guests or opting for a destination venue that is more easily accessible like an Air B&B or hotel in a new city. 
Couples should work with their wedding planner on how to rearrange their budget to offer incredible extras. Perhaps you've always wanted a personalized menu from your favorite restaurant's chef or a band that would normally be out of your price range. Consider the perks of a smaller guest list in exchange for creative extras on your big day. 
With so many weddings moving outdoors, the sky is the limit to how creative you can become with light installations. A wedding completely under the stars can be within your grasp with twinkly lights hanging from the trees or tents made out of lights. But remember as one of our vendors Platinum Band said, " Outdoor events! We love having outdoor events, but we recommend having a rain plan. "
Calm Couples
The old trope of the bridezilla is not only tired but also outdated. Brides and Grooms are getting married because they love each other and want to celebrate that love with their close friends and family. When you take out the stress of a massive guest list with twice cousins once removed, budget constraints, large wedding parties, and instead put the focus back on you and your partner then the stress begins to melt away. A smaller ceremony and reception will allow both of you to truly enjoy your engagement. You can spend intentional time planning the details you both want while also planning the rest of your lives. And if you don't even want to think about the details and you just want to show up and have it all handled for you, check out The Farm in Rome, Georgia, and ask about their Elopement weekends.
Whatever size wedding you and your fiancée decide on, remember to follow your heart and implement only the details that feel like an extension of your union. Every member of The Southern Wedding Collective has been purposefully selected by our founder, Dixie Bagley. You can rest easy knowing that your wedding is in good hands.