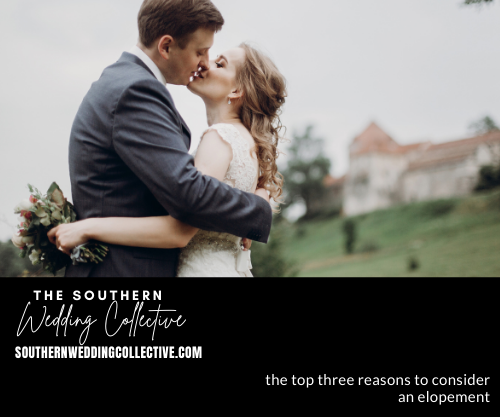 Couples already know the benefits of planning a smaller wedding but let's talk about the O.G. of microweddings, Elopements. Elopements typically have this aurora of secrecy around them.  A couple sneaks away and comes back married without family or friends knowing except perhaps for the Elvis impersonator officiant. However, that definition has changed with today's couples. Couples are savvier and are now thinking intentionally about their budgets, time frame, and health concerns. While big weddings are a lot of fun, the rules have changed and couples are allowed to make decisions based on their own priorities and what matters to their relationship. Marriage is about the long game and making choices that align with both parties' goals and dreams is the steam that keeps the engine going.
"It (an elopement) was so much easier than the big wedding. It was less stressful for me."-Casey, Bride
Top Three Reasons to Elope:
1. You Want to Save Money. 
According to Value Penguin, the average cost of a wedding in the US in 2020 was $20,300 and that was in the midst of a pandemic no less! With some couples paying for some or all of their own wedding $20k can really put a dent in the future. It would be nice to enter into matrimony debt-free or money saved to purchase a first home, a new car, or prep for a baby. Elopements provide the freedom to spend a little bit of money, create beautiful memories between partners and save for a rainy day without a lot of financial or family/friend drama.
"Having a small wedding was our dream! We were engaged for 2+ years and had the hardest time finding a micro wedding venue at a reasonable price…My favorite part about having a small wedding was the guest list size. My husband and I are so blessed to have so many amazing people in our lives but unfortunately, a 200+ person wedding was just not in our budget. Having a limited amount of people kept it special and intimate as we wanted." Breana, Bride
"I've always wanted to get married at a barn-but the venues are just so expensive and when I saw that it was the perfect price and with what was included, it was perfect for us.  It was more intimate but what made me pick the package was price! I loved that everything was included because it took so much stress off of me because I am clueless when it comes to weddings."- Stephanie, Bride
2. Time Frame.
When a boyfriend or girlfriend pops the question they may wait up to a year…or two to actually say "I Do"?  Brides.com says that the average length of an engagement in the US is typically between 12 to 18 months. While that seems like an adequate amount of time to plan a wedding, it seems that over the past two years wedding vendors/venues/photographers are booking out rapidly in advance due to the high demand. This increase in the wedding business has caused some engaged couples to postpone their nuptials until they can book their dream vendors.
An elopement flips the switch. You can get married on your own time frame and your own terms because often venues or vendors will accommodate for smaller ceremonies, especially if they are happening on an off day or time of the week. An in-demand photog may not be available for any Saturday in June but a couple could book them for a  courthouse session on a Tuesday.  Perhaps the popular new restaurant downtown has zero catering slots available for 2022 but the private event room is free and available.  
Scenarios vary from couple to couple with deployments, job changes,or even little bundles on the way. Being able to plan a smaller, faster ceremony is a major benefit to consider eloping. 
"We decided to book because we had been engaged for only two months at the time and had already considered going to the courthouse to get married. The price point definitely can't be ignored, but the love of those closest to us was unmeasurable. It was amazing to just soak in it for a couple of hours instead of greeting everyone and trying to entertain." – Emma, Bride
"We decided to do the elopement package because we wanted something that wasn't going to take a lot of planning on our part and we wanted to keep it small/only family and we loved that we still got to use the amazing venue and all the must-haves all in one package. The small wedding was perfect for us because we didn't have to deal with wedding party drama or planning around a bunch of different schedules. The date being pre-set made it easy to just say this is the date and it can't change so either come or don't but we are getting married."- Lindsay, Bride
3. Health Concerns. 
Unfortunately, the past two years have shown that things can change in an instant and flexibility is key when it comes to planning. When brides and grooms are planning a year or two years in advance it is hard to know exactly what the major health risks will be at that point in time. It's a conversation no one was having at the start of 2020 and its now a discussion always running in the background.  The thought of losing thousands of dollars due to cancellations or the bridal party and guests having to quarantine last minute may feel daunting. Moreover, guests may also be concerned about their own safety at an event and couples may need to consider adding another line item to an already long checklist in regards to purchasing wedding-related covid protocol items such as masks, sanitizer, venue sanitization fees, and more. The easiest way to avoid the risks would be to whisk away and have a private ceremony inviting only those you want to include depending on comfort levels.  
Where Can You Elope in 2022
The Southern Wedding Collective is happy to promote The Farm Rome Georgia's February Elopement Special.  All of  February the beautiful venue is available for couples and up to 10 guests. This amazing package includes the following:
1 hour at the venue

An officiant

1 bridal bouquet

Up to 10 guests

A mini wedding cake

Bring your own photographer or you can add a photographer for an additional $250

Availability 7 days a week from 1pm – 4pm

Total Package Price $500
Hurry and reserve your spot today!
"I never wanted a huge wedding you (The Farm) made our day better than I could've ever imagined"-Timothy, Groom