Working On Your Wedding Business Not In It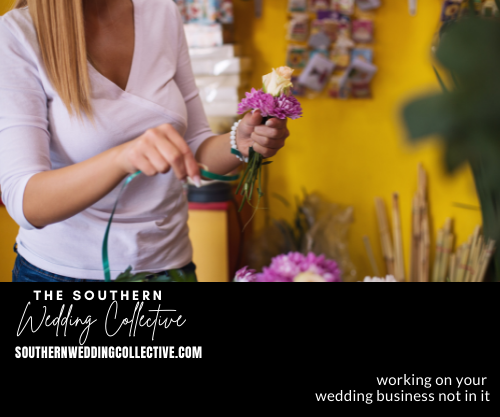 If you haven't had the chance to listen to Dixie Bagley, founder of The Southern Wedding Collective, chat with Shane McMurray from the Wedding Report then here is a brief recap of the conversation along with several takeaways for wedding professionals.
Dixie is the owner of multiple wedding businesses (planning, venues, and bakery) and has worked in the industry for years. After working with numerous wedding couples and vendors Dixie knows a thing or two about how to work on your business versus in your business. She offers some tips for how to take yourself out of the daily rut to see your business flourish.
Offer New Packages
At one of Dixie's venues, The Farm Rome, Georgia, Dixie began to see a growing need for couples that fell in love with her venue but didn't have the funds to do a full weekend. Instead of turning revenue away, Dixie changed course and began offering Pop-Up Weddings and Short & Sweet Elopements  
Her Pop-Up Wedding packages are offered a lower rate and include:
Ceremony location of your choice for four hours

1 bouquet and 1 boutonnière, officiant, tables, chairs, linens, decor, wedding cake,  dinner, coffee, tea, lemonade, music for 1st dances, 1 planning meeting, complementary coordination, and cottage to get ready in.

BYOB music or House music (if providing own music please have pre-loaded).

BYOB  Champagne for toast.

50 person limit, additional guests can be added for $30.00 per person up to 75.
The Short & Sweet Elopements include:
20 person limit

Ceremony location of your choice

Officiant, chairs, cake, flowers included

No smoking/alcohol
These Pop-Up Weddings and Elopements have taken off even more due to social distancing and health concerns. Dixie ran with the idea of couples looking to have a  "microwedding" or "minimony" and created an opportunity to diversify her business packages.  Even as things are opening up more, couples may prefer a smaller gathering and the opportunity to soak in an incredibly intimate affair without sacrificing their venue choice. 
Get Outside of Your Box
This goes hand-in-hand with creating new packages but it may look different for your specific business. Take the time to really think about what is working well in your business. What do you enjoy doing? Hone in on that skill. Come up with some alternative ideas to market yourself and fine-tune your offerings without messing with your main product. 
For Dixie, she didn't enjoy always working all weekend long every weekend so she created several ways to still host weddings that don't require the entire day and aren't all hands on deck. She also scaled her business and grew from being a venue owner to offering planning services, cakes and desserts, and an alternative venue choice that offers a nearby option for couples to host multiple events such as showers or the wedding rehearsal.
Get Serious About Your Business
For starters, if you are in the wedding industry for the long haul, you need to be insured. Members of The Southern Wedding Collective already know the importance of insurance and if you are curious about joining, the first step is to become insured. As a business owner, you need to be a doer. You need to be able to use your leader mentality and get your hands dirty for the sake of your company's growth. At the end of the day, it falls on you the owner, not your employees. Stop trying to be the next big thing and be the next best business because of the quality of your product.
If you want to hear more of this conversation make sure to listen to the full podcast and if you have any questions or feel like you could benefit from some business coaching then don't hesitate to reach out.