What Questions Should You Ask Your Wedding Vendors?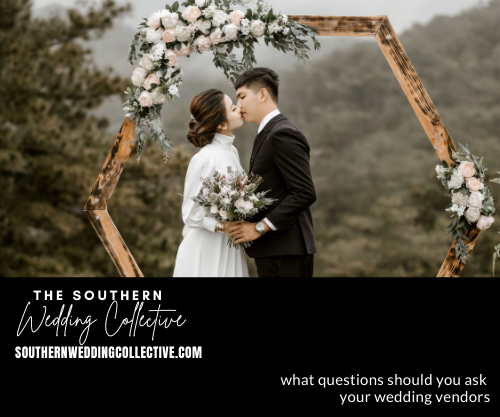 If you are planning a wedding in 2022 then you are in good company. It is estimated that 2.6 million weddings are expected to take place this year. Before you begin to plan your nuptials, you may want to gather some questions as you begin hiring wedding vendors. Here is our guide to some of the top questions you should consider asking your wedding vendors.
Disclaimer: You should always ask every vendor if they are even available for your wedding date and if they have insurance!
Questions to Ask a Wedding Planner
A wedding planner can save you a huge headache. You may never have planned a wedding before and this is their job! Here are a few questions to ask your wedding planner when you first set up a meeting.
How many weddings have you planned?

Will you assist me throughout the process or just day-of coordination?

Do you handle all the contracts and payments?
We asked one of our own Southern Wedding Collective planners, Rachel Beer of Birra Wedding and Events, what is a question she asks her couples upon meeting! This question may also help you when talking with a planner to see if your personalities jive.
As a guest at a wedding, what do you like to see or not see? Rachel says, "This question allows us to see what is important to the couple! Most couples have never done this before so they don't know what they like and what they don't like but chances are they have been to a friend's wedding or a family member's wedding. It allows them to use those experiences to define their wants and needs for their wedding!"
Questions to Ask a Wedding Venue Owner
The venue sets the tone and vibe for your wedding and you will base most of your decisions for other details against the backdrop of your wedding venue.  Here are top questions to ask your venue owner.
How far in advance do I need to book my wedding?

How many hours do I have the venue for?

Can I tour the facility multiple times?

Do you have a list of preferred vendors?
Questions to Ask a Wedding Florist
Flowers are more than just bouquets and boutonniere these days. With so many weddings moving outdoors floral installations have become a big trend in wedding decor. Here are a few questions to consider when meeting with a florist for your wedding.
Do you have a portfolio?

Have you done flowers for my venue before?

Do you charge a delivery fee?

What are your rates or packages?
Questions to Ask Your Wedding Photographer
After the rings are exchanged and the cake has been put away the photos last forever. Hiring and interviewing your photographer is essential in making sure you walk away with images you'll look back on time and time again. Here are a few questions we think you should ask when making calls to potential photographers.
Do you use film or digital or both?

Will you be using a second shooter?

How would you describe your style-are you more traditional or photojournalist?

Do we pay you by the hour or do you offer a package?
Questions to Ask Your Wedding Caterer
One of the most expensive pieces of your wedding budget can be the food! Here are some great questions to ask when you sit down with the caterers and bartenders.
Do you provide the rentals like tablecloths, plates, utensils in addition to the food?

Do you set the menu or do we have some freedom in what we can serve?

Will there be a basket of food and goodies sent to our hotel room after the wedding so we can enjoy the food later?

Do you provide wait staff?

Will you assist with the bar or do I need to hire a bartender?
Questions to Ask Your Baker
We love the pictures of brides and grooms feeding each other cake. It's the sweet endnote to the wonderful day. Here are a few questions to consider when meeting with bakers and bakeries.
Can I taste the flavors?

Do you work with fondant?

Can you use styrofoam fillers for some of the tiers to save money and then serve a sheet cake from the back?

Will you deliver the cake to my venue?

Do you offer anything other than cake options?
Questions to ask your Entertainment
What's a party without great music! Your music could be a DJ, live band, or string quartet. No matter what you choose here are a few questions to ask before your first dance and a married couple.
Do you provide your own sound equipment?

Can I listen to some of your music or see a sample playlist?

Can I attend an event you will be performing at to get an idea of the vibe?

How long have you been doing weddings?
These are just a few questions to get your discovery calls off to a great start. As always, when you use any Southern Wedding Collective venues or vendors you can rest easy knowing they are all vetted and hand-selected by our founder, Dixie Bagley. Dixie wouldn't give them her stamp of approval unless she believed in their excellent work and honorable business practices.
What questions do you have for your wedding vendors? Let us know!