Top Engagement Photo Session Locations in the South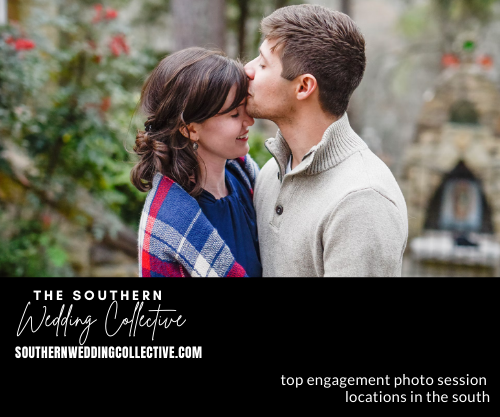 Engagement Sessions pose an excellent opportunity to have a stylized photoshoot with your future spouse.  This session can serve as a chance to capture images to use for your Save-the-Date, reception decor, Christmas cards, or even your thank you stationery.  The other benefit an engagement session provides is the chance to really get to know your photographer's personality and style. Berit Bizjak, one of our Southern Wedding Collective vendors, says, "It is a great way for us to get to know each other, and it is the beginning of gaining trust and comfort with your photographer. They are also a lot of fun!" In return, they are able to get a feel for you and your partner and how the three of you communicate through the lens before your wedding day.  It's a trial run for the wedding! Most importantly we all know that the images of your engagement and wedding day last long after the wedding day is over.
Some couples decide to pick an engagement session location based on a place that is special to their relationship or simply because it's a cool venue for photographs.  There is no right or wrong answer but we're sharing some top locations in our region that we think would make for an awesome backdrop to your love. Some of those locations may also be worth throwing on your bucket list for your next weekend getaway.
Top 10 Southern Engagement Session Locations
We could write pages and pages of suggestions for beautiful southern venues to pick for your engagement session but you and your fiance will know what is right.  Discuss with your photographer, ask questions about what time of day to take your photos and if they have any suggestions or advice for wardrobe options.  
I always advise my couples to 'be themselves' – I don't want to force a couple to do things they are not comfortable with. We will have communications before your engagement photo session that includes what kind of couple you are and what type of photos they want. Everyone is different, so there is no 'standard' pda shot!


-Berit Bizjak, Berit Bizjak Photography
At the end of the day, the most important thing is to caption the excitement and bliss of being engaged and planning to spend the rest of your lives together.