The Top 10 things A Venue Owner Wants Couples to Know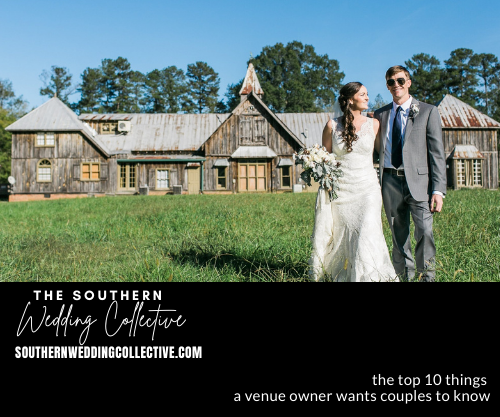 Last February, Dixie Bagley, founder of The Southern Wedding Collective had the chance to chat with Christy Matthews and Michelle Martinez hosts of The Big Wedding Planning Podcast. 
Dixie covered a range of topics on this podcast from the origins of purchasing The Farm in Rome, Georgia to how she started a wedding planning company, Dixie Events all the way to managing a boutique bakery, The Sweet Bar Bakery.
Dixie shares her expertise as a venue owner and goes over the top 10 things she wishes her clients knew about booking wedding venues.
Tip #1: This is a Business, Treat it as Such. It's hard to control your guests especially if they are drinking but work with your planner, partner, family members and/or coordinator to relay the message that this is someone's property and all the little details have been carefully arranged and taken care of to make your day the absolute best. Treat the venue and property with respect and kindness. 
Tip #2: Read your Contracts. And if you have a wedding planner make sure she reads your contracts too. This is so important. Just because you failed to read the fine print doesn't mean you aren't liable to a contract that you have signed.
Tips #3: Hire a Wedding Planner (a Good One). It's nice if it's a relative or a friend who can chip in and help out but they are usually not as familiar with larger venues, rules and regulations. You want a planner than can cover his or her bases and ask all the right questions so you aren't in a bind because your Aunt Sally forgot to read the contract.
Tip #4: Make Sure Your Vendors Are Insured. This is a big one. A lot of large facilities require that every vendor you use has a COI (certificate of insurance). City parks or other facilities can often shut down your wedding if someone has failed to produce this paperwork ahead of schedule.  Once you lock in a vendor request their COI from the very beginning. This may also make a huge difference if you are thinking about hiring a friend or family member to help with the catering or dj booth.  Double-check your contract and see what requirements are needed. 
Tip #4 ½ : Consider Wedding Day Insurance. This is a little nugget that also goes along those same lines. With the rise of micro weddings or having weddings outside on a family member's prosperity or estate, the potential for an accident or incident is higher.  If you need help with where to start this is a great article from Brides.com that offers a few companies to consider.
Tip #5: Be Nice.  Being nice really goes a long way. We are all doing our best to provide you with a really special day. This starts from the very beginning of the inquiry call, negotiating your contracts and packages, and to the very last goodbye.  (This includes your family members.)
Tip #6: Family Needs Boundaries. Don't let too many family members get involved. You want to make sure you or your planner are the main points of contact and that your messages aren't getting crossed because there are too many people calling, emailing, and texting.
Tip #7: Kiddos. Children should be with adults at all times on the venue property.  All ages especially at a large property. The last thing you want on your wedding day is the flower girl pulling down your reception decorations or someone getting injured.
Tip #8: Manage the Alcohol. Don't have your wedding party raid your reception bar while everyone is getting ready. This behavior will completely mess up your vendors while they are setting up. It's totally okay and fun to bring some cocktails or a bottle of champagne in your dressing rooms but let's keep it to a minimum until the reception.
Tip #9: Don't be a Jerk.  This goes back to Tip #5 but it should be reiterated. Be respectable We are providing a service but we are not servants. We aren't available 24/7. Make sure you understand the hours of communications that your vendor has set. We're all here for a good time-including your vendors!
Tip #10: Contracts are Negotiable. If you read your contract and you have questions about your package what it includes or doesn't include, speak up, negotiate. Also, make sure all the tangible items you saw during your tour are included if you want them. All you have to do is ask and vendors are happy to help you make this a great day!
"Everyone that is providing your wedding services wants you to have the best day ever." – Dixie
If you want to hear more in-depth you can listen to the whole chat here or check out our In the Press for more featured podcasts to help you plan your wedding with confidence.