Stock the Bar! Options for Your Wedding Bar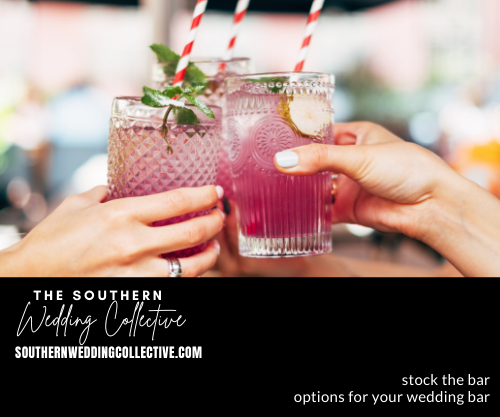 The rings have been exchanged. The couple has sealed their new union with a kiss. Now it is time to share a toast with friends and family! Some couples hire their own bartenders to handle bringing and serving the alcohol and some decide to go the DIY route. Whichever path brides and grooms choose there are several options to consider. 
Totally Teetotalers
Some people choose to skip the booze altogether. This choice may be based on the location of the ceremony or reception. Perhaps it is being hosted in a house of worship and alcohol is not allowed.  Maybe the couple wants to keep the rowdy behavior to a minimum or they don't feel comfortable having alcohol around their family.  Whatever the case may be, not having alcohol certainly saves money on the overall wedding budget. If couples decide to forgo the liquor they may instead consider offering alternative beverage stations such as mocktails, hot cocoa or coffee bar, or fruit-infused spa water. 
Pass the Bubbly
Another option would be to forgo all alcohol except for champagne. This idea of a champagne only reception was actually fairly common a few generations ago. Now depending on the venue, time and guest list a champagne only reception may be an easy way to imbibe post nuptials while still having elegance and class. Champagne and cake pairs well together no matter the time of day!
Open Bar vs. Beer and Wine 
Some couples hire bartenders and have a full open bar. They offer beer, wine, cocktails, mixers and garnish. While pricey, this option is always the most popular among guests and couples alike! No one is disappointed in the variety of drink choices. There is something for everyone and when you hire a trained staff of bartenders that know what they are doing the service is impeccable. 
Beer and wine only is another budget friendly option. Avoiding liquor inevitably cuts down on the costs while at the same time still offering a selection of drinks for guests.  When opting to go this route, couples will pick a beer or wine with significant meaning or something they know is a crowd pleaser.  Splurging on a few craft beers or local wines is a fun way to tie in personality and taste to the reception as well.
Signature Only
An alternative option to the beer and wine reception would be to also offer a signature cocktail. This could be done in several ways. Each partner, bride or groom, picks a favorite drink and offers it as a selection along with a menu of beer and wine. Or the couple picks just one cocktail that would be thematic to the location, venue, couple.  The cocktail(s) can be renamed for the evening or could simply stay classic.  It's a creative way to expand the libation menu for the reception without bringing in a full bar.
Sabrina Dowdy from Across the Bar reminds couples, "Don't try to please everyone with the bar menu. Pick some fun options and some popular options and let it go. You can't please everyone like a local watering hole so stick to the basics and pick options that you enjoy. People will drink what you have.  Bar is a chunk of budget so you have to decide if it's a price you want to pay. Keep in mind the liability and responsibility that goes along with the alcohol. Licensed and INSURED Bar services are required by venues, for skills and personality, but more importantly for the coverage they carry. This is not cheap."
Finally, if the wedding bar keeps a couple up at night then it's time to talk to a professional. Talk to any of the Southern Wedding Collective vendors and planners. Talk to venue owners. Talk with brides and grooms that are already planning their wedding or have just recently gotten married. Relax, grab a drink and have fun!