Revisiting Your Venue Policies and Procedures during COVID-19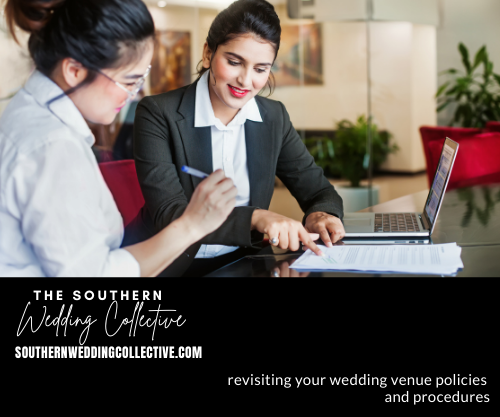 Reposted from SpecialEvents.com 
August 26, 2020
This post was written at the height of the pandemic in 2020 and while the wedding industry is getting back to normal these tips still apply in an ever-changing landscape.
It's important to revisit your policies and procedures on a regular basis to ensure that they're updated and as efficient as possible. Everything is constantly changing (especially now), so you should really aim to do this at least once a year, if not more often. However, it's important to keep your policies and procedures in the back of your mind at all times in case you notice something that needs to be addressed.
For example, when you're working on an event and an issue pops up, keep tabs on it. Start a note on your phone where you can quickly jot down any thoughts and ideas that arise while on the go, so you can revisit it later. Otherwise, you risk forgetting an important lesson for your business.
Later on, you can take a day or two to retreat from work and focus on internal operations. Open up your notes and work on everything that you've been tracking. Ask yourself: How can I change this and make it work better for my business?
The key to keeping your policies and procedures fresh is to be intentional about recognizing the gaps that need to be fixed and taking the steps to solve them. Of course, this year has been unlike any other–COVID-19 has put us all in a position where we need to revisit our operations to stay up to date in an ever-evolving situation. Let's take a look at a few considerations to keep in mind as you address your contract in light of the pandemic.
Listen to your Market.
If you listen closely, you may find that your market is trying to tell you something. When you start receiving repeated requests for a certain product or service, it's time to revisit what you're doing and see how you can make it work. Right now, we're seeing a big shift towards smaller packages to adhere to social-distancing guidelines. We all need to find new ways to open up our businesses while still abiding by the rules in this ever-changing climate.
However, this goes beyond COVID. The industry is always going through phases and welcoming new trends, so you should always be prepared to adapt and pivot according to market demands. Crisis or not, the industry landscape will always be changing, and you need to change with it.
Ask for Help.
In all areas of business, it's helpful to have a selection of industry peers that you can bounce ideas off and ask for feedback. In terms of policies, I encourage talking to your inner circle and asking for thoughts on your proposed changes. They will have a good understanding of your market and can help you see other perspectives or offer suggestions for a better change.
Start with What's Most Important.
It's possible that you have a lot of changes that need to be made, which can take time. To start, choose the most important issue that will have the most impact on your business. For example, we operate a farm venue, and our "no fires" policy is a serious deal. We could lose everything if we didn't have it in our contract, so that would be a natural starting point. Nowadays, it may be a clause regarding COVID-related postponements and cancellations or a statement about required safety restrictions. Consider what you wouldn't want to leave out of your next contract and make it happen.
Communicate the Changes.
First off, you need to communicate any changes to your policy to your vendor partners. We create a vendor expectation sheet in-house, which outlines our expectations and helps educate our industry peers on the best practices of working on our venue. While it's an especially valuable solution, I'd love to see vendors giving them out as well–it's a great way to get to know one another and learn the best ways to collaborate within one another's boundaries.
With clients, you do need to call everyone to notify them if there is a change to the contract (or discuss it in person, if possible). Most people will accept the changes even if they don't like them, but you may get some pushback from others.
Being open and honest is key–explain why your decision is not about them, but about the bigger picture of your business. Make it bigger than their event and apologize if it causes an inconvenience, but stand firm in your decision.
Train Your Staff.
Of course, having detailed policies in your contract can only go so far if they aren't enforced by your team. Set meetings to sit down and talk about new changes. We give copies of our contract and vendor requirement sheets to all of our new hires and temporary help so they can review them and understand all of our policies. If they're asked a question, they must know how to answer it. Even the hardest worker can fall short of expectations if they aren't well-versed in the business' operations.
If you're planning to make COVID-related changes to your contract, take some quiet time to sit down and focus on finding a solution that's really going to work for you. This is truly a make-it-or-break-it situation for many, so now is not a great time to make the wrong decision. If you're unsure of what to do, consider hiring a consultant to help you out. It might not feel like the best time to spend money, but it could be an investment that decides the future of your business.
Being flexible is critical at all times, but especially in today's climate. You have to ask yourself: Am I going to sink or swim? Then, adjust accordingly and continue moving forward towards your goals.