LGBTQ+ Friendly Wedding Vendors in the South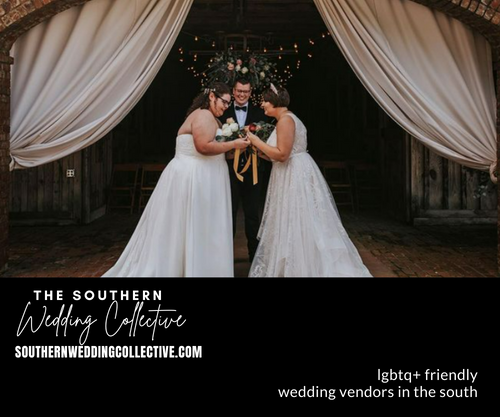 June is Pride Month! Love is love and every love story is unique and special. Your love story shouldn't be excluded because of your sexual orientation. So with that being said, we couldn't let the month pass by us without sharing a list of some of our favorite LGBTQ+ inclusive wedding vendors we have worked with in the past few years. 
Cue the Champagne
Cue the Champagne is Chattanooga, Tennessee's number one wedding planner.  Shaun Teauge, founder, and her team have been exclusively planning and coordinating weddings and exceeding their clients' expectations for more than nine years. They are passionate about giving clients a stress-free, beautiful, calm wedding day experience. You can browse their website and portfolio to see the stunning events they have done in the past but also make sure to check out their heart and soul promise.  We are especially fond of number four.
"We promise to serve you, your family, and guests with respect, treating each person as a cherished personal friend without judgment."
---
JBS Weddings & Events
JBS Weddings & Events is a wedding and event planning company in North Georgia. Braden Sutton-Zickafoose, the founder of JBS Weddings & Events, has a true passion for all things wedding.  In 2013 Braden started his career in the wedding industry and hasn't looked back. He has planned, officiated, and coordinated over 100 weddings in over five states since he started in the business and doesn't plan on stopping any time soon. Braden's specialties include full-service wedding planning, day-of-coordination or even being an ordained minister for your ceremony.  We love his zest for his clients and you will too.
"I love what I do, and I love working with all types of couples; gay, straight, young, elderly, and everything in-between."
---
Mejia Jones Photography
Mejia Jones is an Atlanta Based  Wedding & Portrait Photographer. She is a self-proclaimed lover of good food and great sangria! Though Georgia is her home base she is willing to travel to document your wedding or engagement photos.  She loves getting to know people through their stories and documenting your milestones as cherished memories. Her services include the option of a second photographer, multiple location shoots, and wedding portraits. Her finished pieces are available both as digital copies and in physical formats such as wedding albums. 
"Positively impacting people's lives through kindness and compassion."
---
The Modern Officiant
The Modern Officiant is a full-service Atlanta-based wedding officiating, vow writing, and relationship counseling company specializing in non-traditional and LGBTQ Weddings.  Jemelle Wooten,  MBA, is the owner and CEO of the Modern Officiant. Jemelle became an ordained minister and licensed officiant in 2016. She says she was drawn to this profession while planning her own wedding. She noticed there was a need for an officiant in Atlanta who was also a "card-carrying member of the LGBTQ+ community" and also specializes in non-traditional weddings. Jemelle offers several packages that include all the bells and whistles for a larger crowd, from smaller intimate elopements to even simple marriage certificate signings.  
"People within the LGBTQ+ community experience so much hate and discrimination in everyday life.  We shouldn't also experience it with something we fought so hard for – the right to marry who we love."
---
Dash of Pride
Dash of Pride is an online boutique dedicated to LGBTQ+ celebration supplies. Jenna Szyluk, the founder, birthed the idea of Dash of Pride in 2019 while planning her own wedding. In the process, she and her wife found it hard to shop for their dream wedding when there was such an underrepresentation of decor and supplies for the LGBTQ+ community. They offer stationery, invitations, save the date, and all paper products along with wedding day decor like cake toppers, signage, banners, and so much more from a safe and supportive source.
"When you shop with Dash of Pride, we hope that you'll feel a sense of belonging in a community that "gets you" and supports you."
---
This is just a short list and we are constantly updating and looking for new vendors that work with all walks of life.  If you are a vendor that would love to be added to our list please contact us. If you are a couple that knows of a vendor that should be on our list we would love to hear from you.  Our mission at The Southern Wedding Collective is for you to be able to plan your wedding with confidence and we stand by that for every single couple.