Let Them Eat Cake: Your Wedding Cake Tasting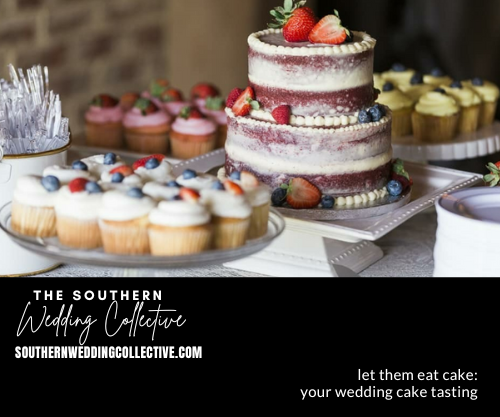 One of the most delicious parts of planning a wedding is the cake tasting. While some brides and grooms are in full wedding boot camp diet mode it is perfectly fine to use a cheat day for the cake tasting. If anything, it's a chance to relish in your hard work, celebrate with your fiance, and hammer out some tasty details.  But how do you prep for a cake tasting?  
Buttercream and Budgets
It's hard to think about your cake budget as you are biting into moist cake and buttercream but you definitely should have some idea of what percentage of your wedding budget you want to spend ahead of time. The national average is usually 1% of the budget. Though that seems like a small number, consider what that looks like in dollars and cents. The average cost of a wedding cake is somewhere around the $500 mark. Of course, this price can vary based on a myriad of reasons but mainly the number of guests you will be having.  Have a number in mind when you go to discuss your wedding cake and be upfront and honest with the bakery. Also, make sure you mention any personal preferences for the presentation. If you want to use your heirloom cake knives or future mother-in-law's cake stand share that information from the start.  Discuss delivery details and pricing so you aren't surprised with any fees on the day of.
Inspiring Images
Go ahead and start pinning away at images of cakes you like. Take pictures of your friends' cakes or save posts on Instagram. Screenshot that cake you saw in an influencer's story. The more images the better when you are discussing how you want your cake to actually look. If you can, prior to your appointment, ask the baker or caterer if you can see some images from other weddings and events not just on their website so that you have a feel for their design style. You want the cake to taste good but also look good so it's best if you have a general idea of their portfolio and cakes they have done in the past. 
Vanilla or Funfetti
Consider the tone and vibe of your wedding. If your wedding is more traditional then a tiered wedding cake may suit your needs. If you are having a boho-chic woodland wedding then you may want to branch out and try a naked cake or ombre icing feature. You may not know exactly what you are going for but having a general idea about the time of day, venue, estimated head count and color scheme will help narrow down your options.  It's also good to know way ahead of time if you have any dietary restrictions you need to manage especially with the immediate wedding party.  Should you serve a gluten-free or vegan option? Another item to consider is your partner's cake.  Will you stick to cakes that have a cohesive look or will your branch out and experiment with something more playful? Other desserts are also popular and if you want your baker to provide those as well it's important to discuss this at this appointment. 
Don't Skip Breakfast
Don't skip breakfast or lunch or dinner for that matter. You know when you try to go to the grocery store on an empty stomach and you end up buying all the things. The same thing applies to your cake tasting. Try to have a light snack or meal beforehand so that you aren't gobbling everything up and saying it's the best thing you've ever had because you are so famished. Wedding expert herself, Mindy Weiss, suggests sipping water between samples so you can cleanse your palate.  Remember that the appointment may last over an hour and you'll be on a sugar rush by the end so take good notes after each bite.
Listen to the Experts
Unless you are a professional baker yourself, it's best to listen to the experts and trust their advice. Ask them how many wedding cakes they have baked over the course of their career and make sure you get references of course. But also let them help you navigate this part of your wedding planning. It's not something everyone knows everything about. You may be a chocolate connoisseur but you may not know what it takes to make a chocolate cake for 300 people. Your bakery does. 
The Sweet Bar
Finally, if you are looking for a trusted vendor for your wedding cake, look no further than The Sweet Bar.  They are a family-owned bakery in downtown Rome, Ga. They serve a variety of sweets from Apple Fritters to Cake Pops to a good old-fashioned doughnut. They can make custom cakes for any occasion. Whatever your sweet tooth desires The Sweet Bar can make it happen.