How to Make it on a Wedding Venue's Preferred Wedding Vendor List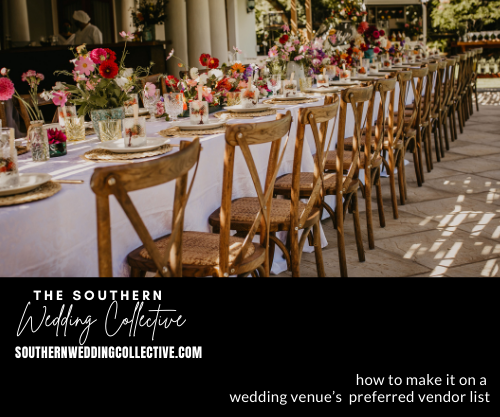 As a wedding vendor, you already know how amazing it is to have other vendors recommend you to their couples but what if you were on a venue's preferred vendor list?  To land a spot on the coveted list is a great honor but it takes some work.  The Southern Wedding Collective is not a fan of the pay-for-play model. We don't believe in just dropping some cash with a company just so your name is on an exclusive list.  The list no longer feels exclusive when you are having to fork over a check just to be mentioned among others. No, we are talking about truly building relationships and networking in this wedding community. 
The Southern Wedding Collective's founder, Dixie Bagley, had the chance to sit down with Jamison Evans on her Bridal Business Bootcamp Podcast in August of 2020 and discuss wedding vendors and the best practices for working with top reception venues and landing on their recommended vendor list.
Relationships Matter
The number one thing that you need to do to get on the venue's preferred list is pretty simple: take time to get to know the venue and the venue owner. It's impersonal and unprofessional when someone sends an email that says they are an XYZ vendor and they want to be on your preferred vendor list. You don't know them and they don't know you and it doesn't form any sort of relationship or history that would make the venue feel comfortable recommending you. Instead, wedding vendors should invest the time to call the venue owner, request to tour the venue, and envision how your service or product would work best in that space. This sets the stage for a mutual relationship between you and the venue owner and you both have a better idea about what you can bring to the table for future brides and grooms.
Get Social
After you have connected and established a business relationship you can begin to take the next steps to see how you can grow your engagement with one another on social media. Social media requires a little bit of social listening, meaning as a vendor you need to take the time to see which platforms your top reception venue is on and most active, what type of posts are they posting (video/reels/blogs/photos/stories/etc), and who is their target audience. Then offer suggestions for how the two of you could cross-promote content to your followers. For instance, a photographer could take new pictures of a venue for their own portfolio and also share them with you for your social media. The two of you could then collaborate on a post, reel, IGTV, TikTok, etc… The possibilities are endless. Not only will you create a beneficial social sharing relationship but you are able to tap into a client base you perhaps would otherwise not have access to. Caters, bakers, wedding planners can all do the same with their services in a variety of ways. Get creative, ask questions, listen and share. The currency of social media is sharing information back-and-forth, engagement, and tagging each other. It's a great way to talk and have a conversation with everyone watching.
Thoughtfulness Should Not be Overlooked
Running a venue can be a 24/7 thankless job sometimes. Oftentimes this isn't because couples and guests are rude but rather wedding vendors are constantly in a hurry and moving from one event to the next. A little hospitality can go a long way. As a vendor to a venue owner  if you drop a thank you note in the mail after a tour, zoom meeting, or wedding this shows you are a step above the rest. Dixie explains it this way, "Having a vendor go out of their way and make the extra effort of thanking you for what you did with your venue for their bride and groom is a huge thing!"
Five Star Review
Don't forget to leave a review. When you order an item (especially an item that costs a little more) on Amazon do you order blindly or do you take the time to read the reviews? The same can be said for brides and grooms. They want to make sure before they book a venue or wedding vendor that other couples before them have had a good experience. Leaving a venue a Google review or shout-out on social media is huge in this business. Word of mouth is a big deal for wedding vendors/venues in this industry as everyone relies on excellent service in order to obtain more brides and grooms.
Top-of-Mind
A great way to get your product/services in front of your top reception venue would be to find out when they are giving tours. At Dixie Bagley's venue, The Farm | Rome, Georgia, Dixie will sometimes host back-to-back tours with brides and grooms on a certain day.  Reach out to the owner and find out when the next tour is and offer to cater the meal, donate flowers, set up your DJ booth, play your instrument, create a signature cocktail for the day, or even take photos of the experience for everyone. It sets the stage for the couple to see your services and you may even get booked on the spot while also impressing the venue owner! 
Get Insured
Don't forget to cross your "t's" and dot your "i's" when it comes to insurance. If you are serious about your business then you need to make sure you are insured. Your couples will appreciate it not to mention when you walk onto a venue's property you are in their heavily insured space and you should respect that professionalism. A lot of venues won't work with uninsured vendors which means you will never land the spot on that preferred list without insurance. 
Hopefully, these tips and insights help you create the recipe for building your wedding business and land more clients and relationships with your dream venues. If you have questions as a vendor, are interested in coaching, or are new here and would like more information on the Southern Wedding Collective feel free to contact us.