Creating Welcome Bags for Your Wedding Guests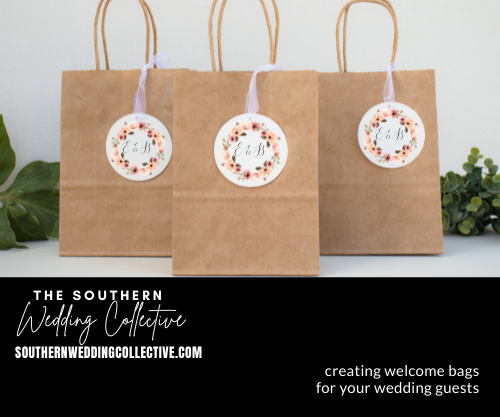 Remember when you were a little kid at your birthday party giving out goody bags to all your friends as they were leaving?  Well, wedding welcome bags are basically the same thing but with a little more thought behind them. They are a great way to greet your guests at the start of the wedding weekend and include some personal touches from you and your partner.  Here is a little guide to creating your own personal welcome bag for your wedding guests that will really wow them.
The Southern Wedding Collective's Guide for Wedding Welcome Bags
Who Receives a Welcome Bag?
Commonly out-of-town guests receive a welcome bag for the wedding weekend. These are the guests that have to travel a bit of a distance to your wedding and are staying at a hotel.  On the flip side if you are hosting a destination wedding then it is in good taste to have a welcome bag for everyone that attends. It's a nice gesture for any of your guests that made a journey to celebrate and a fun way to thank them for doing so.
When to Distribute Your Welcome Bag?
These bags should be given at the start of the wedding weekend since they are different from the wedding favors that people take home when exiting your wedding. Some brides and grooms may choose to have the hotel staff distribute them to guests when checking into the hotel or resort.  Other couples host an informal welcome reception during the wedding weekend and hand them out then.  You could also enlist your wedding party to deliver them to guests as they arrive at various times.
What to Put in Your Welcome Bag
There is no set rule on what you should include in your welcome bag but some suggestions would include an itinerary of the wedding weekend and a map of the property or directions to venues for out-of-towners. Even though everyone has access to GPS it is still a nice touch.  Rachel Beer, with Birra Weddings, offers the following advice, "Wedding Welcome bags should include something special to the couple and the area where the wedding is taking place (the couple's favorite candy bar, a local IPA/beer, etc.). This truly makes the welcome bag special to each couple and their guests.  The welcome bags can also include fun items like a hangover remedy kit, a sweet/salty snack, stationery and itineraries for the wedding weekend, and more!" You can also include simple things like a water bottle with your a personalized wedding sticker or hashtag, a pack of crayons and a coloring book if you know they are traveling with children, hand sanitizer or masks depending on your venue's protocols, and easy snacks like granola bars or popcorn.  You don't have to include a lot of items but simple thoughtful gifts that express gratitude and also personal details about the weekend. 
In conclusion, the Wedding Welcome Bag is just a little happy for your family and friends who are over the moon to celebrate with you. It's a nice way to say thank you beyond just a card. It may be an extra expense but it also makes your guests feel special and a part of the festivities.  If you have questions or would like to see some examples of wedding welcome bags that our Southern Wedding Collective planners have helped put together for other couples don't hesitate to reach out.